What is Gateway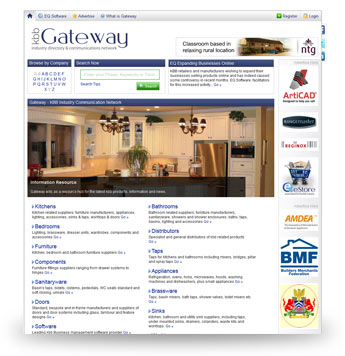 Industry Directory
Gateway is your searchable source of Suppliers, Trade Associations, Media and Marketing companies specific to the kitchen, bedroom and bathroom industry. Suppliers can upload their latest brand catalogues, build a profile, load branch addresses, contact information and even post their latest news stories. New industry information from kbb Trade Associations is not only posted on Gateway, but also pushed to the many thousands of EQ Software users. Marketing companies and the online versions of the industry's leading Media publications can also be accessed on kbb Gateway within a few clicks.
Information Resource
Gateway acts as a resource hub for the latest kbb products, information and news. Using a single portal such as kbb Gateway enables quick easy access to what's relevant in today's fast moving market. With kbbGateway.com as one of your browser favourites, you can access headline stories, the latest industry regulations or the next accredited training courses in just a few clicks.
Communications Network
Gateway is a networking platform for communication between all sectors of the kbb industry and it will never stop evolving and developing. Since its inception in early 2010, the mission was to bring retailers closer to their industry suppliers by enabling transparent communications between the two sectors. EQ Supplier Partners will have the potential to communicate directly to their retail customers' desktop through the Gateway channel. Trade Associations sending global messages to their relevant sectors and the kbb Media with headline stories. To keep up with further developments follow us on Twitter @eqsoftware_uk, or better still keep coming back to kbb Gateway.
EQ

Software

Gateway has been developed by us at EQ Software, the UK's largest kbb business management and eCommerce solutions provider. While we think our development team is doing a great job, it is always good to get feedback from visitors to any of our websites. If you have suggestions or want to give some general feedback, good or bad, then tell us.

Email- enquiries@kbbgateway.com