News - Dynamic Space from Blum, more than just Kitchen Planning
Tuesday, December 11th 2012

Dynamic Space is a scientifically conceived kitchen planning scenario developed by fittings specialists Blum as tomorrow's answer to what was the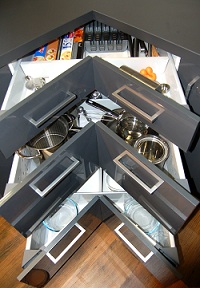 old "working tri-angle" standard. In the modern kitchen which is so much more than merely a food preparation area, Blum have evolved Dynamic Space as an ergonomically led solution to modern storage requirements in the kitchen organised into 5 logical zones of activity where everything is to hand. But the natural progression of the idea is that individual cabinets should have specific functions much as appliances other modern kitchen aids have.
So, for instance, the Blum SPACE TOWER larder unit is a special piece of functioning furniture in itself, as are pan drawers, ORGA-LINE equipped cutlery and utensil drawers, the UNDER-SINK drawer and the unique Blum SPACE CORNER.
So Dynamic Space is the broad planning concept but it is based upon the positioning of functional cabinets. Check out Dynamic Space on www.blum.com.
Back to News...